When Americans hear the word tourism/tourist, we usually think of going somewhere far flung to enjoy a long vacation with the family, friends or a companion. In recent years another phrase has popped up in our lexicon and that is "medical tourism". Many Americans might not be familiar with this phrase, but we do know its meaning, and in some cases know someone who has been a medical tourist. In short, Medical Tourism is the act of travelling to another country for a specific medical procedure. The main reason for this usually involves cost, quality of care and lack of supply in owns home country.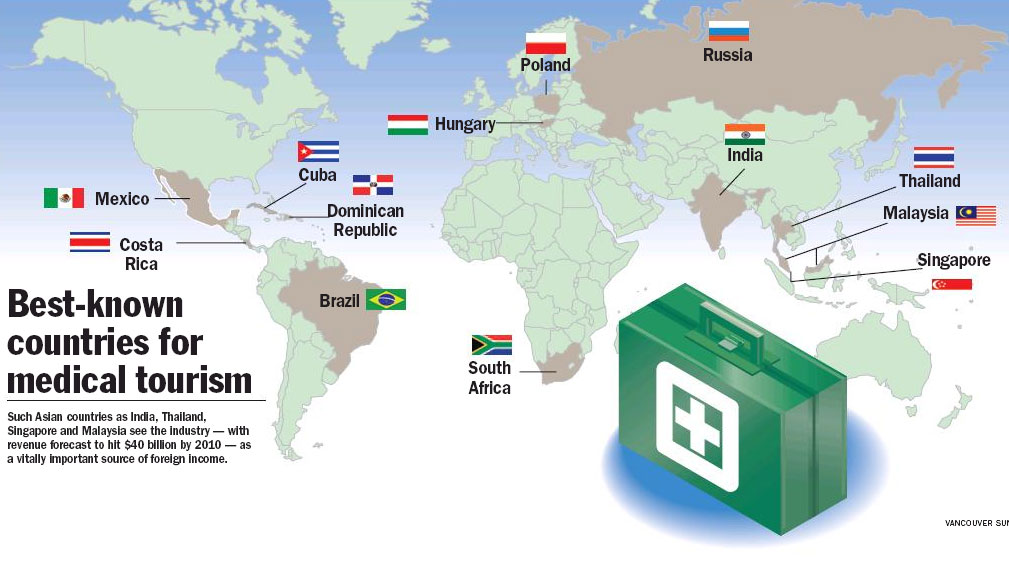 Why do Americans go abroad (Mexico) for Medical Procedures?
The number one reason for travelling abroad for a medical procedure is cost. It could be that someone does not have health insurance or the procedure they need is cosmetic which is not covered by their health insurance. For those who do not have any health insurance whatsoever, it is a lot less expensive to travel abroad then to have it in the US. This could range from knee and hip replacements to treatment for cancer. The care and treatment can be on par with the US, but research and due diligence is required in selecting any country and hospital.
Another reason for Medical tourism is that the surgery is elective and is not covered by insurance. Most elective/cosmetic surgery such as face lifts, rhinoplasty, breast implants, hair transplants and some dental procedures are in most cases not covered. In the case of dental insurance, there is a cost limit as to what is covered and in some cases procedures such as dental implants and braces might not be covered at all.
There are the extreme cases where a medic al procedure is not approved in the US and patients will go abroad for this risky surgery. Recently there was a 32-year-old woman from the US who travelled to Colombia to have the color of her eyes changed from hazel to light gray. The results of the surgery left her 80% blind in her right eye and 50% in her left eye. If its not an approved procedure in the US, chances are that the surgery is something you don't need or would want to avoid.
Where do most Americans travel for cosmetic surgical procedures?
Until recently many Americans would travel south of the border to Mexico for less expensive medical procedures. Much of this was done for elective surgery for dental procedures, hair transplants and other surgery options. This was done because of the cost as well as the convenience to flying to Mexico and the familiarity. Many people go on vacation to Mexico and feel a bit of attachment to the country. Although its not a short flight from many parts of the US, it is still popular.
Where do Europeans go for less expensive surgical procedures?
Many on the European Continent as well as the UK and Ireland leave their countries to have a variety of medical procedures. Because of the state of the healthcare in some of the countries, such as the UK, you can find less expensive and better quality of care when flying to Eastern Europe. Some will go even farther afield to Turkey for certain procedures, although many of these are for strictly cosmetic procedures.
It might seem unusual that someone from one EU (European Union) country would go to another EU country for a procedure offered at home. Although part of the same "Union" and many with shared currencies such as the Euro (€), prices and quality on the continent and in the region vary considerably. Savings can range from 50%-70% on many procedures both elective and semi-elective surgery.
Which European country is the most popular for Medical Tourism?
Consistently for the past 10 years, Hungary has been the number one destination for a variety of procedures both elective and semi-elective. Hungary has established itself as the number one destination because of its quality of care and cost. The quality is on par and in some cases better than the Western European countries and the UK and Ireland. As member of the EU Hungary is held to the same high-standards as these other countries, although provides the same care at a discounted price.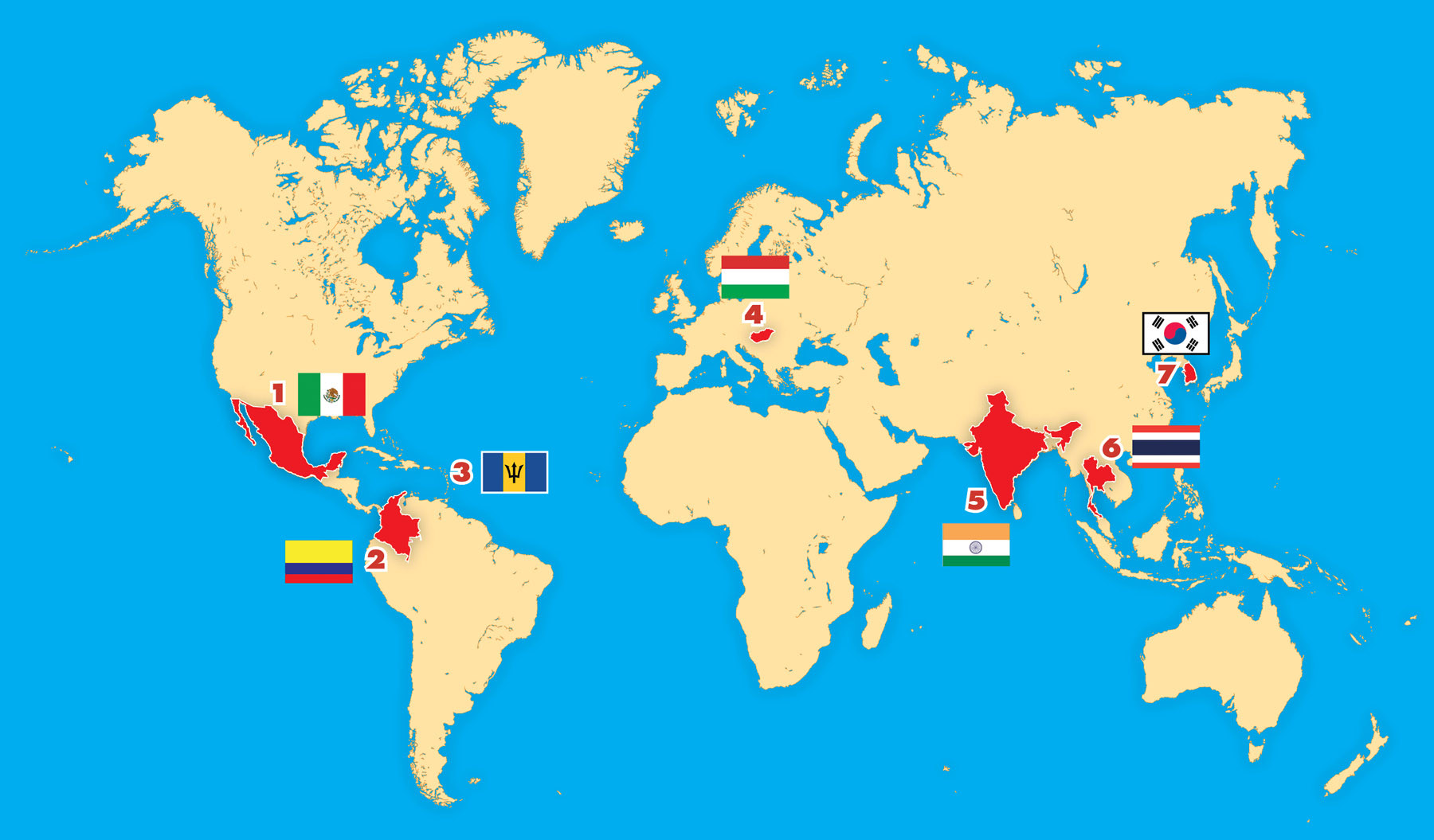 The cost of living in Hungary is much cheaper than most of Europe and still consistently ranks among the best of quality of care in medical procedures. Hungary is also blessed with some of the best medical schools in the region which attracts many students from abroad who come to Hungary and decide to practice medicine here. This benefits the medical industry with select doctors as well as a multi-lingual staff whose first or second language is English. Hungary also has one of the highest English-speaking populations in Europe and is continuing to rise.
With all that is on offer in Hungary, the top medical tourism procedures performed here are Dental and Hair Transplants. Patients from the UK, Ireland, Germany, France, Belgium and other counties are flying to Budapest for these cost saving procedures. Most Americans head to Mexico for inexpensive dental procedures but have not embraced going abroad for hair transplants. With an increase in demand, quality hair transplants are what many Americans are looking to have while saving money.
How can Americans benefit from hair transplants in Hungary?
For those who have spent their lives in the US, companies such as Bosley, Bernstein and Hair Club have graced magazines and the Internet with slick and colorful advertisements. Many men have believed that these three and other transplant clinics were their only options for hair loss. But with the popularity of medical tourism, their options have expanded to Europe and more specifically Hungary.
If you live near New York, Chicago or Philadelphia we have good news to share with you. In 2018 direct flights take you from these U.S. locations to Budapest, Hungary where you can save 70% on your hair transplant in NYC.
Many of those in the US looking for hair loss treatments have scoured the Internet looking for solutions. After the endless searching you come to realize that for the moment, a Hair Transplant is the best alternative, or at least until they come up with a magic pill. The term which is most likely associated with the hair transplant is the FUE (Follicular Unit Extraction) procedure. This method is much more advanced than the old strip method and uses individual follicles as donors to implant into the balding area. In the US the most used method is the Neograft procedure which is a specialized machine used in assisting the surgeon for transplantation.
FUE hair transplants abroad – Budapest, Hungary is a prime target!
In Budapest, Hungary the preferred method for Hair Transplants is the FUE Safe System. This is another tool used for hair transplants, although the surgeon must be certified to use this medical tool. The Neograft which is more common in the US can be used by any surgeon and not just a skilled hair transplant surgeon. The Neograft tool offers a path for general surgeons or plastic surgeons to capitalize on the ever-expanding Hair Transplant market. The downside for the patient is that the surgeon might not be as skilled as you would like and relies more on the device than on his or her experience and knowledge.
In Hungary there are a handful of hair transplant surgeons who are certified to use the FUE Safe System and whose practice focuses only on these transplants. The Safe System is a tool that cannot be mastered overnight while also providing an option for patients who have a rare hair loss condition such as FOX Negative™. The term FOX Negative™ refers to a class of hair loss which exclude potential patients from having a hair transplant procedure. The FUE Safe System along with a very skilled surgeon can perform a transplant on a patient such as this with very good results.
Can I save money for a Hair Transplant by flying to Hungary from the US?
You might be somewhat skeptical to think you could save money by flying to Hungary for a Hair Transplant. All this talk of the highly advanced FUE Safe System and highly skilled surgeons doesn't sound like any bargain. Well believe it or not you can save money and a considerable amount at that. The prices are calculated by the cost of each graft multiplied by the number of hair follicles grafted. On average a 2,000-graft transplant would cost $16,000 in the US and $3,600 in Hungary. With a cost savings of over $12,000 you could stay in the Four Seasons Hotel for a few weeks and still save money. Fortunately, there is no need to worry about accommodations in Budapest as the clinic provides accommodations in high end apartments/hotels which is included in the price of the surgery.
Up until recently there were no direct flights from the US to Budapest, Hungary. There actually was a direct flight years ago, but that ended with the collapse of the Hungarian National Carrier Malev. As Hungary grows in popularity with businesses and tourists, the demand was there to start direct flights from Philadelphia, New York and Chicago. Currently Budapest is the second fastest developing urban economy in all of Europe which should benefit tourist and business people alike.
The average cost of a roundtrip ticket to Budapest Hungary is about $1,000 from Philadelphia and New York and approximately $1,200 from Chicago with a flying time of 9.5 hours from all three cities. From Philadelphia the carrier is American Airlines and from Chicago and New York it's the Polish National Carrier LOT. A bit less expensive and time consuming than flying through London, Paris or Frankfurt and with a lower chance of your luggage getting lost in the transition.
Is this a real option for Hair Transplants or a scam?
No, it is not a scam and it is the real deal. If you go to the reviews on our website from former patients, you will see that this is as real as it gets. The quality is on par or better than in the US and as mentioned above a lot less expensive. People in the US have been travelling to Mexico for various medical procedures and now it is Hungary's turn to compete with the big boys. Of course, I would advise you to do your research and ask hard questions of the staff in Budapest. But in the end, you will see that this is a viable option for Hair Transplants. Plus, you can spend a few extra days in one of the most beautiful cities in Europe and enjoy the people, sites, culture and quality care.
Cost of hair transplant

2023

 (

USD

) –

Hair Clinic in Budapest

, Hungary
 

PACKAGES

Implanted hairs
Free nights apartment
Price of the package
5% cash discount

Package 1000

1000

2

$1450

$1377

Package 2000

2000

2

$2040

$1940 

Package 3000

3000

2

$2915

$2770

Package 4000

4000

2

$3795

$3605

Package 5000

5000

3

$4380

$4160

Package 6000

6000

3

$4965

$4715
Get in touch with us and ask about hair transplant options!
loading…